Find all publications of past exhibitions of the museum on the Publications page.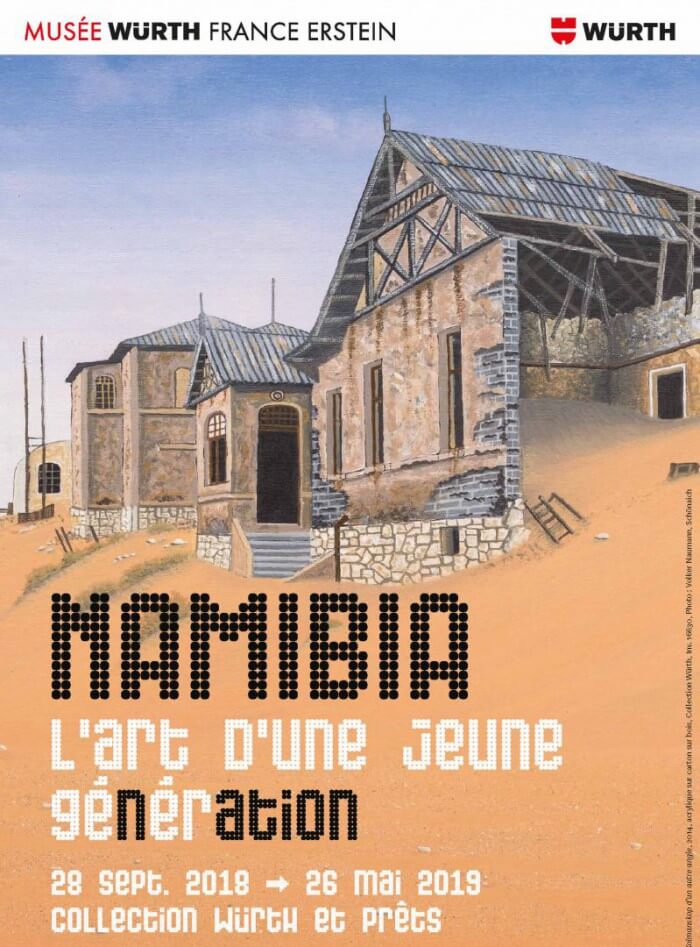 NAMIBIA, The art of a young geNerATION
From September 28th to May 26th 2019

Namibia. The art of a young geNerATION (Würth collection and loans) offers an introduction to the works of forty contemporary artists who live and work in Namibia. The exhibition, a presentation of 150 works, profiles a fertile and creative art scene, that of a fledgling nation deeply marked by its independence in 1990.
Hélène de Beauvoir, Artist and Activist
From January 28th to September 9th 2018

Hélène de Beauvoir (1910-2001), is the younger sister of the famous writer Simone de Beauvoir. Each in their own way, she and her sister dedicated their lives to breaking free from this order by devoting themselves entirely to creative activity – writing for Simone and painting for Hélène. In doing so, they gave themselves the vital independence required to take on the status of a female artist, and the difficulties it entailed.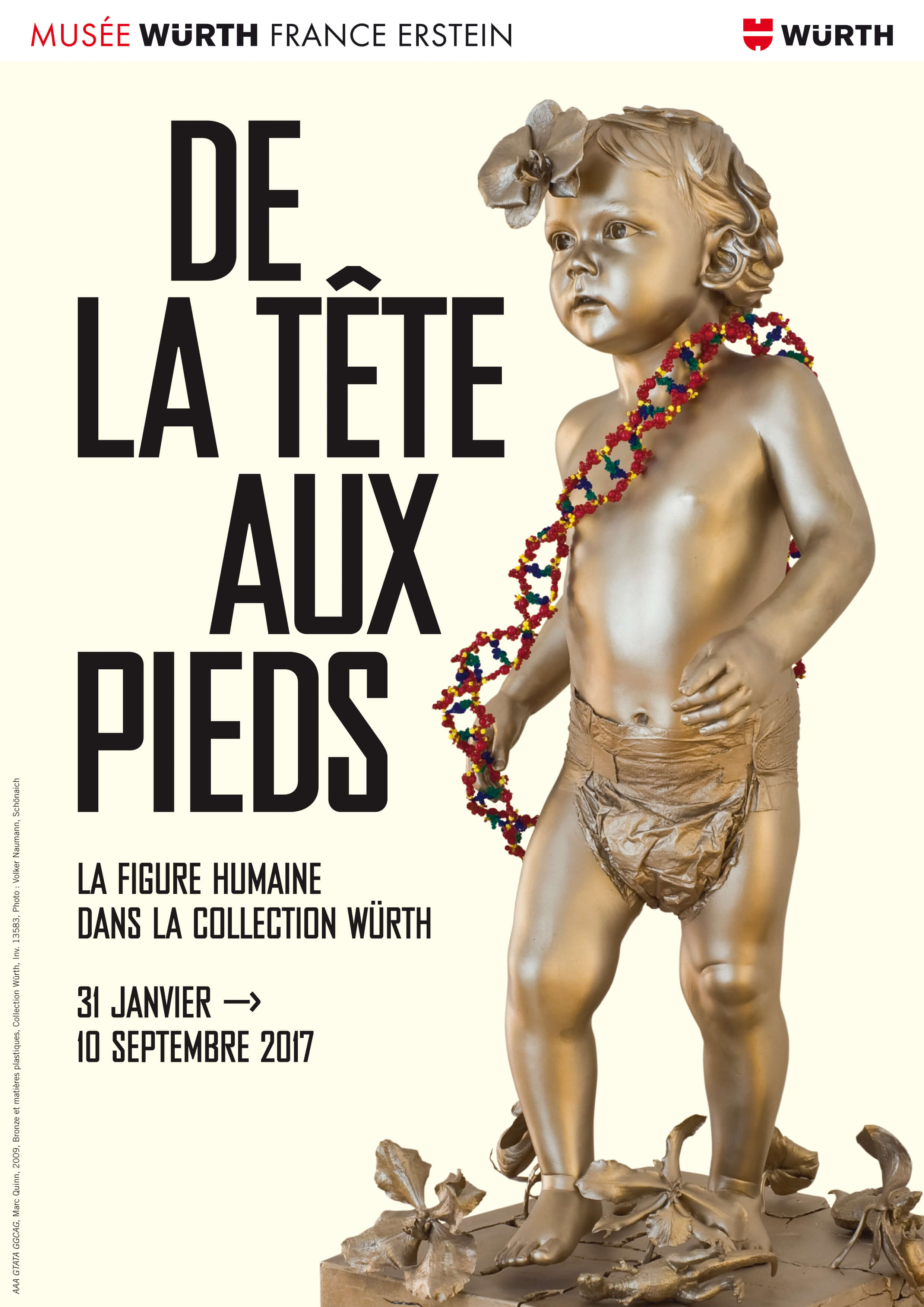 From head to toe
From 31th January 2017 to 7th January 2018

Through 150 paintings, drawings and installations from the Würth Collection, the exhibition presents a fascinating vision of the representation of the human figure in art. The extensive selection of works, dating from the late 19th century up to the present day, encompasses major pieces from the Würth collection as well as recent acquisitions.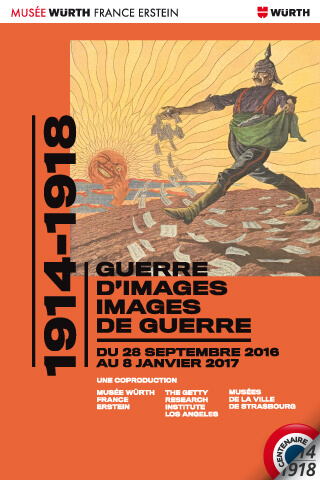 1914 -1918 : War of Images – Images of war
From 28th September 2016 to 8th January 2017

The exhibiiton presents an overview of the iconography of propaganda that flourished between the belligerents during the First World War and a selection of artists' testimonies.

A co-production by :
Musée Würth France Erstein
The Getty Research Institute, Los Angeles
Les Musées de la Ville de Strasbourg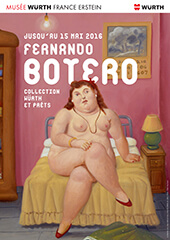 Fernando Botero. Würth Collection and loan
From 20th September 2015 to 4th September 2016

The exhibition offers a wide selection of paintings and sculptures of the colombian artist.
Anthony Caro. Masterpieces from the Würth Collection
From 7th february 2014 to 9 August 2015

The Musée Würth France Erstein hosts a retrospective memorial exhibition devoted to the greatest English sculptor of his generation, with an exceptional range of his works drawn from the past 40 years.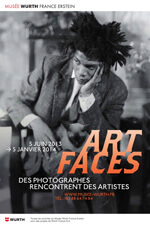 Art Faces. Des photographes rencontrent des artistes
From 5th June 2013 to 5 January 2014

The exhibition concentrates on famous photographer (Michèle Sila, Gisèle Freund, Herbert List…) and pictures of Pablo Picasso, Piet Mondrian or Gerhard Richter they took.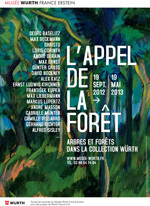 L'Appel de la Forêt. Arbres et forêts dans la Collection Würth
From 19th September 2012 to 19th May 2013. Extension until 5th January 2014

The exhibition offers a selection of extraordinary paintings and sculptures of the collection Würth around the subject of the forest.
Xénia Hausner – Flagrant délit
From 23th March to 2nd September 2012

The exhibition allows for an immersion in a world where portrait—especially feminine portrait—prevails.
Éclats ! Le musée se met au verre… contemporain
From 5th October 2011 to 4th March 2012

The works by certain of the artists represented are emblematic of studio glass both from a technical and from a rhetorical point of view, or of the generation of their creators, like Václav Cigler, Stanislav Libenský and Jaroslavá Brychtová or Clifford Rainey.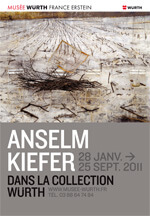 Anselm Kiefer
From 28th January to 25th September 2011

Anselm Kiefer in the Würth Collection is an exhibition that presents an exceptionally rich selection of works by the German artist, ranging from his early creations to contemporary pieces. This is because in recent years, the acquisition choices made by Professor Reinhold Würth, the collector and founder of the Würth Group, have taken in various major groups within Anselm Kiefer's body of work.
Paris-Karlsruhe-Berlin – Vents d'est et d'ouest
From 4th June 2010 to 9th Januar 2011

The idea behind the exhibition grew out of the premise that many artists have left Karlsruhe for Paris or Berlin over the past century, whilst others have settled in Karlsruhe, attracted by the prestige of its Academy of Fine Arts. As the title suggests, these two directions of movement have been a constant source of artistic renewal and helped to create a unique artistic profile in the Upper Rhine region.
The shadow of words
From 9th October 2009 to 16th May 2010

Gao Xingjian, Prix nobel de Littérature 2000
Günter Grass, Prix nobel de Littérature 1999
The Shadow of Words is an exhibition that sets up a dialogue between two artists whose work takes in poetry, novels, painting and theatre. They are known for their literary endeavours but each of them also asserts his status as a painter. Bringing these multi-disciplinary artists together gives us the opportunity to draw two remarkable portraits of figures who have been marked by the history of the 20th century.
Love at first sight
From 19 February 2008 to 18 September 2009

In this exhibition, the art historian Werner Spies, who is president of the Würth group's art advisory committee, offers a selection of works from the collection's recent acquisitions. The collector's personal approach to art is reflected in the title of the show. Like a journey through art history, the exhibition presents diverse groupings of works, providing an overview of the artistic developments of the last 150 years through their multiplicity of styles and forms. Although it does not represent the collection as a whole, the exhibition does offer an insight into its defining features and perspectives.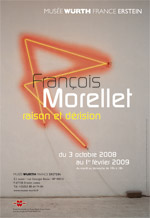 François Morellet – Reason and Derision
From 3rd October 2008 to 1st February 2009

François Morellet – Reason and Derision – is an exhibition that has been put together in close collaboration with the artist, based on works selected from the Würth Collection and from the artist's own studio, in addition to loans from other collections. The title in itself, with its opposition of these two terms to form an "unnatural couple", as Morellet puts it, sums up the spirit that has guided the artist's work for almost fifty years: the serious faculty of "Reason" in constant competition with "Derision", his glib, frivolous and sometimes insolent side.
Inaugural exhibition Another World
From January 27 to September 21, 2008

The inaugural exhibition at the Musée Würth France Erstein invites us to consider art as another world. By liberating us from our temporality, art creates a universe free from the rules and demands of reality, yet maintains a complex relationship with that reality, in which reciprocal influences abound. Escaping from rational utilitarianism, it can assert its intrinsic values and is governed by its own laws.